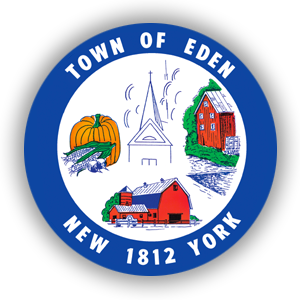 Contact Information:
Eden Town Court
2795 East Church Street
Eden, New York 14057
(716) 992-3559
(716) 992-9040 (Fax)

Hours of Operation:
Monday, Tuesday, Thursday, & Friday: 8:00am - 4:00pm
Wednesday 8:00am - 12:00pm                                     Summer Hours May 6th - Sept 2nd: Fridays: 8:00am-3:00pm 
The Town of Eden Court provides convenient and local access to the court system for:
Vehicle and traffic violations
Town ordinances
Criminal cases
Small claims
Evictions
The Town Court is also responsible for scheduling court dates and accepting payment of fines.
Fines and fees can be paid via cash, certified check, money order, or credit card (MasterCard & Visa).  There is a 2.99% fee if paying with credit.  Money Orders or Certified Checks should be payable to the Town of Eden Court
Payments cannot be processed over the phone and no personal checks are accepted.
Please note, court clerks ARE NOT PERMITTED to give legal advice.

Staff:
Justice Michael Cooper
Justice Melissa Zittel
Town Prosecutor, Kevin Condon
Teresa Baskerville, Court Clerk
Cindy Henry, Part-Time Court Clerk