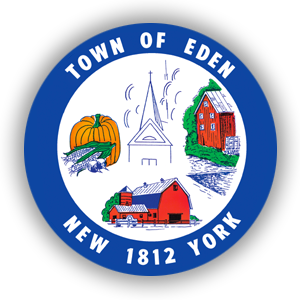 Contact Information:
Eden Town Hall
2795 East Church Street
Eden, New York 14057
(716) 992-3408
(716) 992-4131 (Fax)

Town Supervisor:
Richard Ventry

Hours of Operation:
Monday, Tuesday, Thursday, Friday
8:00am - 4:00pm
Wednesdays
8:00am - Noon
Town of Eden News & Announcements
The Town of Eden is actively looking for a Director of Recreation. This is a part-time position (19 hours per week). The candidate will have good knowledge of recreation theory and practices; good knowledge of the organization and operation of recreation facilities and equipment; working knowledge of municipal administration; ability to promote, plan and organize municipal recreation activities; good communication skills, ability to plan and supervise the work of others; sound professional judgment; ability to work well with the public and with groups of all ages; resourceful; dependable; physical condition commensurate with the demands of the position. Minimum qualifications:
Graduation from a regionally accredited or N.Y. State registered four (4) year college or university with a Bachelor's degree and one (1) year of experience in physical education or recreation field; OR
Graduation from a high school or possession of a high school equivalency diploma and five (5) years of experience as indicated in (a); OR
An equivalent combination of training and experience as defined by the limits of (a) and (b) above.
Salary is commensurate with candidate's experience. All interested candidates should email or send a cover letter and resume along with three references to the address below. Resumes are due Friday, February 17, 2023. If you have any questions or would like additional information call 716-992-3408 opt. 1.
Eden Town Supervisor
Attn: Marlene Grunder
marlene@edenny.gov
2795 E. Church Street
Eden, NY 14057