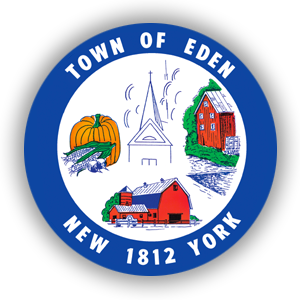 Contact Information:
Eden Town Hall
2795 East Church Street
Eden, New York 14057
(716) 992-3408
(716) 992-4131 (Fax)

Town Supervisor:
Richard Ventry

Hours of Operation:
Monday, Tuesday, Thursday, Friday
8:00am - 4:00pm
Wednesdays
8:00am - Noon
Town of Eden Senior Citizen Services
Are you a senior in the Town of Eden?  Listed below are some helpful services and groups available to all our senior citizens.  We are always looking for volunteers to assist with the groups.  Please contact the Town Hall at (716) 992-3408 if you would like to help out!
Senior Fun at the Eden Library:  Universtiy Express; A life long learning program for adults.  Click here for topics being offered May 11th – June 15th.  Click here for topics June 22nd – July 13th.  
Transportation Assistance

Town Car– The town provides free transportation for senior residents to and from important appointments and essential errands.  Please contact the Eden Supervisor's office  at 992-3408 option #1 to determine availability and reserve your date.
Rural Transit Service – Rural Transit Services is a non-profit service that provides transportation to senior citizens, low/moderate income individuals and disabled residents.  They operate between 8:30 – 4:00 Monday thru Friday with the exception of holidays.  Medical trips take priority.  For more information, call (716) 662-8378 or visit 

www.RuralTransitService.org

.

Alzheimer Caregiver Respite Program – Do you have a family member suffering from dementia? This program is designed to give you a few hours of free time to take care of personal items while trained volunteers care for your loved one.  Activities are offered such as crafts, games, light exercise, music and a healthy lunch.  The group meets the 3rd Wednesday of each month from 10:30 am – 2:30 pm at the Eden Methodist Church.  Contact Kevin Karstedt at 992-2248 for more details.
Eden Senior Citizens Group – The Senior Citizens Group meets every other Thursday at the Eden Town Hall. For more information, contact Bill Bartoszek at (716) 649-5957.
Eden–North Collins Food Pantry – This group was formed to provide food to those seniors in need through a food distribution center in North Collins. Contact 374-5683 for more information.  You can also contact Meals on Wheels for home delivery meals at 822-2002.
Police Surveillance – The Eden police provides police surveillance for homes of seniors while they are out of town. Contact the Eden Police at 992-9211 for more information.
Erie County Senior Services – For additional senior services offered by the county, call (716) 858-8526.
Stay Fit Dining – Erie County Senior Services welcomes you to Stay Fit Dining offered in Eden at Saint John's Community Church on East Church Street.  The program serves hot, nutritious, delicious noonday meals – Tuesday and Thursday.  You or your spouse must be 60 years of age or older and the suggested confidential contribution is $3.00, but no one will ever be denied a meal if they are unable to contribute. Advance reservations are required.  To make reservations, call  992-9143 by the Wednesday prior to the day you plan to attend.  Stay Fit Dining meals provide a minimum 1/3 of the vitamins, minerals, protein, and other key nutrients as defined by the Department of Agriculture's Recommended Daily Requirements (RDA) for people over the age 60.  This is a great way to connect with old friends and meet new ones.  Clink here to view the current menu on the Erie County page:  http://www2.erie.gov/seniorservices/index.php?q=nutrition-amp-dining-stay-fit-dining-program
Southtowns Rural Preservation Company – Does your home have safety issues that need repair?  Homeowners age 60 and over Southtowns RPC is now accepting applications for the Southtowns RESTORE program.  Click here for the application.
Veterans Benefits for Seniors
http://www.military.com/benefits