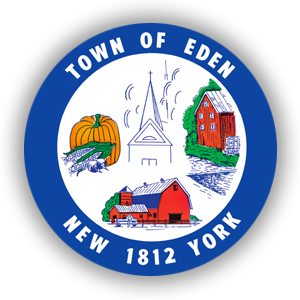 Contact Information:
Eden Town Hall
Attn: Eden Recreation Dept
2795 East Church Street
Eden, New York 14057
(716) 992-4400 (Information)
(716) 992-3811 (Pool)
(716) 992-4131 (Fax)

Executive Director
Amy Porter

Eden Recreation
Dates: June 26, 2017 – August 1, 2017
Time: 9:00am – 3:00pm
Ages: 1st Grade to 15 Years Old
Location: GLP, Gorcica Field, and Flower Field
Campers must bring their own lunch
Activities include sports, arts and crafts, field trips, special activity days and more!!!!
A copy of child's immunization record must be submitted with registration.
Click here to view the Recreation Calendar
Flower Field Calendar – August
The registration fee will be $50 for the first child, $35 for the second child, $25 for the third child, with every child thereafter living in the same household at no cost. If you register at one of the four dates below, you will receive $5 off for any paying child.
Field Trips
 Buffalo Naval Park – Thursday, July 6, 2017
Bus departs the GLP at 9:15 sharp and then will pick up campers at Flower and then Gorcica Fields. Campers will return by 2:30pm.  Forms went home with all campers on 6/28 and are due back by Monday, 7/2.
Click here for a permission form
Mini Day Camp
Dates: June 28, 2017 to August 1, 2017
Ages: 4 – 6 years old
Location: GLP
Session One: Mondays, Wednesdays, Fridays from 9:00 – 11:00am
Session Two: Tuesdays and Thursdays from 9:00 – 11:00am
Activities include theme days, arts and crafts, playground activities, reading activities and more!!!
A copy of child's immunization record must be submitted with registration.
Click here to view the Mini Camp Calendar
The registration fee will be $25 per child for Session One and $20 per child for Session Two. Please note: Early Bird specials do not apply to the Mini Day Camp program.
Registration for the Mini Day Camp program will be held at Eden Town Hall on:
Saturday, May 20th from 10:00am to 12:00pm
Tuesday, May 30th from 6:30pm to 8:30pm
Saturday, June 10th from 10:00am to 12:00pm
Friday, June 16th from 6:30pm to 8:30pm
Instructional Swim
Dates: June 26, 2017 to August 11, 2017 (no lessons on 7/4, 8/2, 8/3, 8/4)
Levels I, II, and III will be held on Monday / Wednesday / Friday**
Levels IV, V, VI, and VII will be held on Tuesday / Thursday**
**Level to be determined after testing**
Time: 8:30am – 2:30pm
Cost: $25 per child with swim lesson family maximum of $75
Summer Track and Field
Dates: Late June thru Early August
Location: Hamburg High School(Due to ECSD Capital Project)
 Stay Tuned for More Information
Hook-A-Kid On Golf
(In Conjuction with Town of Hamburg Recreation)
Ages: 5 – 18 years old
Call (716) 646-5145 for more information
Summer Music Series
Dates: Every Tuesday from June 26th – August 29th
(Please note: There is no concert on July 4th)
Time: 6:30pm
Location: Eden High School
(Rain Location will be the Eden High School Auditorium Foyer)

Please bring a chair for your comfort!
June 27 – 2 Left Boots (Country)
July 4 – NO Concert…Happy 4th of July
July 11 – South City (Acoustic Rock)
July 18 – Road Runners (50's Music)
July 25 – Carribean Extravaganza (Steel Drum Band)
August 1 – Patti Parks Band (Blues)
August 8 – Joe D'Angelo Band (Italian-American)
August 15 – Barnstorm Band (Country)
August 22 – Elvis Lives!
August 29 – Creek Bend (Bluegrass)

Thank you to our generous sponsors: 
Agle's Farm Market, Buffalo Scale & Supply Co, Campbell and Associates, DFT Security, East Eden Tavern and Smoke House, Eden Ale House, Eden Chamber of Commerce Inc, Eden Chiropractic, Eden Collision Inc., Eden Community Foundation, Eden Shurfine, Eden VFW Post #8265, Evenhouse Printing, KensieMae LLC, Hamburg Overhead and Door Inc, Kevin C. Condon & Associates, Laing Funeral Home Inc., Napa Auto Parts, O'Brien's Auto Wash, Oriental King, Randall Agency Inc., Save- A – Lot, Shunk's West Hill Grill, Tim Horton's, Weidner BBQ, William L. Watson Co. Inc.