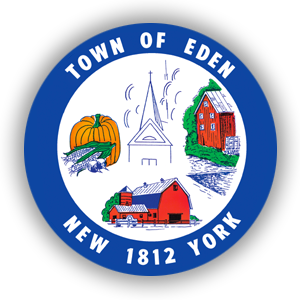 Contact Information:
Eden Town Hall
Attn: Building Department
2795 East Church Street
Eden, New York 14057
(716) 992-3576
(716) 992-4131 (Fax)
Code Enforcement Officer
David Rice

Hours of Operation:
Monday - Friday
8am-3pm
New Residential Single – Family Dwelling Permit
---
BUILDING PERMIT APPLICATION CHECKLIST FOR DWELLING.
ONE & TWO FAMILY
All of the following items MUST be submitted with this application in order to obtain a Building Permit:
√   Completed BUILDING PERMIT APPLICATION form
√  Proof of Insurance: DB120.1 (Disability), U-26.3 (NYS Insurance Fund) C-106.2 (Workers Comp) OR
Affidavit of Exemption (Eden Form AE-1)
√   A copy of the existing and most current and accurate survey or site plan.
Drawn to scale, proposed structure on the survey or site plan with the dimensions of the proposed structure, including property line setbacks from both side and back yard property line.
√  STAMPED WORKING PLANS – (2 sets req'd) – an accurate set of working plans, drawn to scale when possible. To include the following:
√   FOUNDATION/FOOTER – Width & depth from existing grade, show detail including Concrete, Stone, backfill, etc,
√   FLOOR – Type of floor and depth (Concrete, stone etc..) Vehicular storage requires a non- combustible floor with drainage or pitch to door opening
√   WALLS – Type/size of studs and spacing, including structural components, beams, headers. sill and top plates. Indicate exterior materials to be used (Siding, Metal, Etc…)
√   DOORS/WINDOWS – indicate location and size of any window or door openings
(window/door type not required unless heated)
√   ROOF TYPE
√   ENGINEERED TRUSSES – Valid Manufacturer 's certification required as part of this application. Must meet local snow & wind load requirement. Drawing shall indicate type or method of fastening to truss (Eg. Hurricane straps) to wall construction plates or sidewall headers. Truss cert shall note spacing with top and bottom cord bracing requirements.
√   WOOD RAFTERS – indicating type of wood, size and length and proposed pitch.
Drawing shall indicate spacing of rafters including type or method of fastening rafters (Eg. Hurricane straps) to wall construction plates or sidewall headers.
√    BUILDING PLAN REVIEW CODE CHECKLIST (2015 IRC) – Plan review code checklist submitted, to include, but not limited to foundation, framing, general construction, roofing, ventilation, lighting and energy conservation.
√    ENERGY CODE CALCULATIONS (Res Check) –Window/door/Insulation detail calculations showing the project meets the current International/NYS Energy Code.