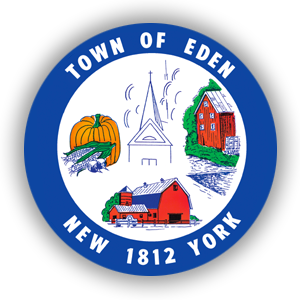 Contact Information:
Eden Town Hall
Attn: Building Department
2795 East Church Street
Eden, New York 14057
(716) 992-3576
(716) 992-4131 (Fax)
Code Enforcement Officer
David Rice

Hours of Operation:
Monday - Friday
8am-3pm
Property Split with Merge Permit
---
BUILDING PERMIT APPLICATION SUBMITTAL REQUIREMENTS – PROPERTY SPLIT WITH MERGE
All of the following items MUST be submitted with this application in order to obtain a Building Permit:
√   1. A survey map, prepared by a licensed land surveyor, showing the existing lot of record, the proposed split and proposed merger. Each survey map must show the shape, dimensions, radii, angles, and area of all existing and proposed lots, as well as the dimensions to any and all buildings or structures that presently exist. (2 copies of each are required)
√  2. A deed describing the lot of record. (1 copy required)
√  3. Documentation indicating intent to merge or deed indicating merger has taken place.
√  4. A $100.00 application fee, payable to the "Eden Town Clerk", to be submitted to the Town Clerk with completed application and submittals.