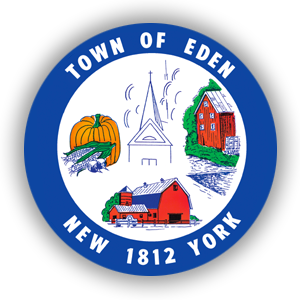 Contact Information:
Eden Town Hall
Attn: Building Department
2795 East Church Street
Eden, New York 14057
(716) 992-3576
(716) 992-4131 (Fax)
Code Enforcement Officer
David Rice

Hours of Operation:
Monday - Friday
8am-3pm
Residential Alterations & Repairs Permit
---
BUILDING PERMIT APPLICATION CHECKLIST FOR ALTERATION/REPAIRS
All of the following items MUST be submitted with this application in order to obtain a Building Permit:
√   Completed BUILDING PERMIT APPLICATION form
√  Proof of Insurance: DB120.1 (Disability), U-26.3 (NYS Insurance Fund) C-106.2 (Workers Comp) OR
Affidavit of Exemption (Eden Form AE-1)
√  A written scope of work in detail describing the work to be completed.
Scope should list/identify all major tasks associated with the work to be completed.
Eg: Scope includes renovating two-bedroom, one bathroom and a family room. Each bedroom will have windows and drywall replaced, with bathroom toilet shower sink and faucets replaced in kind with no additional plumbing necessary new electrical circuits also established in the bathroom.
√   WORKING PLANS – (IF NEEDED Pending scope) – 2 sets req'd – an accurate set of working plans, drawn to scale when possible, MAY include any of the following:
√   FOUNDATION/FOOTER – post hole size/diameter, depth from existing grade, footer pole installation detail. (Concrete, Stone, backfill, etc,)
√   FLOOR – Type of floor and depth (Concrete, stone etc..)
√   WALLS – Type/size of structural components, beams, headers.
√   DOORS/WINDOWS – indicate location and size of any window or door openings
(window/door type not required)
√   ROOF TYPE
√   ENGINEERED TRUSSES – Valid Manufacturer 's certification required as part of this application. Must meet local snow & wind load requirement. Drawing shall indicate type or method of fastening to truss (Eg. Hurricane straps) to wall construction plates or sidewall headers. Truss cert shall note spacing with top and bottom cord bracing requirements.
√   WOOD RAFTERS – indicating type of wood, size and length and proposed pitch.
Drawing shall indicate spacing of rafters including type or method of fastening rafters (Eg. Hurricane straps) to wall construction plates or sidewall headers.
√  ELECTRICAL (IF INCLUDED)  – Requires separate inspection. Contact the Building Department for a list of approved electrical inspectors.
√  PLUMBING (IF INCLUDED)  – Plumbing sketch's may be required should the Alterations include new or relocated plumbing lines
√  PLANS & SPECS –  Project may require: plans/drawings to be imprinted with a seal and signature of an Architect (AE) or Professional Engineer (PE), registered and licensed in the State of New York, in accordance with the NYS Education Law. Size, cost and use are factors that may dictate this requirement. Contact the Building Department Official to see if it will be required.