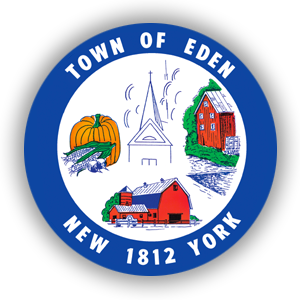 Contact Information:
Eden Police Department
2795 East Church Street
Eden, New York 14057
(716) 992-9211
(716) 992-2242 (Fax)

Police Chief
Gregory Savage
Town of Eden Police Department
If you are having an emergency, please CALL 911 IMMEDIATELY to get help!
I need the number for Poison Control!
Please dial 911 instead of calling Poison Control!
I'm going out of town and would like to request a Premises Check.
What do I do if my utilities are down?
I received a traffic ticket in the Town of Eden. What do I do next?
How can I apply for license plates or a parking permit for a disability?
You will complete Section One.
Your physician will complete Section Two.
If you require a hang tag, please bring the completed form and the license of the PERMIT HOLDER into the Eden Police Department at 2795 East Church Street in Eden.
If you require license plates, please bring the completed form to your nearest DMV.
I need fingerprinting done. Can I come in to the Police Department?
Fingerprinting is done only for town residents and businesses.   However, you MUST bring your own print cards, we do not have any here.  No electronic scanning is done.
Who do I call with questions regarding wildlife on my property?
For questions regarding wildlife, please call the New York State Department of Environmental Conservation at (716) 851-7000 or visit 
http://www.dec.ny.gov/
.
How do I run a search on all sex offenders in the area?
Can I run a search to see if an individual is in prison?
In order to search the New York VINELINK (Victim Information and Notification Everyday) database for offenders,
please visit their website
.