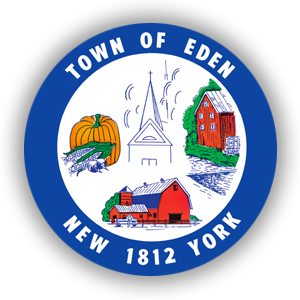 Contact Information:
Eden Town Hall
Attn: Town Clerk
2795 East Church Street
Eden, New York 14057
(716) 992-3406 Option 4
(716) 992-8953 (Fax)

Eden Town Clerk
Emily Hawkins

Hours of Operation:
Mondays, Tuesdays, Thursdays, Fridays
8:00am - 4:00pm
Wednesdays
8:00am - 12:00pm and 4:00pm-6:00pm
Closed:
Christmas: 12/23/20 PM, 12/24/20, 12/25/20
New Year's: 12/30/20 PM, 12/31/20, 1/1/2021
Marriage Licenses
License: $40.00
Certified Copy $10.00
Application for Copy of Existing Marriage License
Download Marriage Worksheet Application [PDF]
The Town Clerk is responsible for issuing a New York State Marriage License to qualified applicants as well as recording the marriage with the New York State Department of Health. The marriage record is on file in this office and in Albany.  Licenses to marry in New York State may be obtained from the Town Clerk's office regardless of the residence of either of the parties. Once the license is issued and the 24-hour waiting period has passed, the ceremony must be performed within 60 days and can be performed anywhere in New York State.  In order to obtain a marriage license, the applicants must present photo ID (driver's license or passport) and their birth certificate. Both applicants must appear in person.
Marriage license applicants whose previous marriage(s) ended in divorce, annulment or death of a spouse, must provide proof of dissolution of all previous marriage(s) by presenting a certified copy of Divorce or Annulment decrees and/or a certified copy of a Death Certificate for each previous marriage. Blood tests are no longer required.  The fee for obtaining a New York State Marriage License is $40 payable by cash, check, money order or credit card (user fees will apply). Additional Certified Transcripts of Marriage are available for $10 per copy.
The New York State Department of Health can be contacted at 1-855-322-1022.