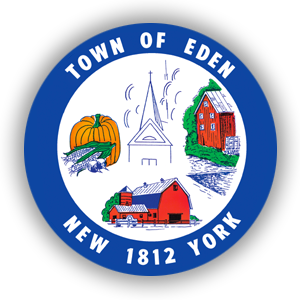 Contact Information:
Eden Highway Department
8197 North Main Street
Eden, New York 14057
(716) 992-3823
(716) 992-2787 (Fax)

Highway Superintendent
Ron Maggs

Hours of Operation:
Monday - Thursday
6:00am - 4:00pm
Frequently Asked Questions
Why does the snowplow dump all the snow in my driveway?
As the snowplows pass your driveway the snow will roll off the edge of the side-discharge plow into the empty area (the shoveled driveway), an unavoidable result.
Why does the snowplow keep knocking down my mailbox?
The biggest reason mailboxes get knocked down is their placement. They might be placed too low and the wing plow catches it; or they could be too close to the road; and sometimes it isn't even the plow it is the force of the snow hitting it.  Many of you have designer mailboxes; it is recommended that you replace your designer mailbox with a generic one for the winter months.
Where does my property end and the town right-of-way begin?
Most right-of-ways on residential streets are 49.5′ to 70′ wide. The cartway (the portion of the street that is paved) is normally 20′ to 22′ wide. Therefore if the cartway is centered in the right-of-way there is a 15′ or so strip on either side of the cartway before you get to your lot line. This can vary considerably, however, your property survey will show the distance from the front of your house to the town right-of-way. If you are planning on performing any work along your road frontage such as installing any utilities, fencing, sprinkler systems, dog wires, landscaping etc., you should contact the highway department office and/or the building inspector to determine the limits of the right-of-way.
Can I bring garbage to the highway department?
No. The town allows 1 or 2 bulk items to be placed with your garbage on the FIRST FULL WEEK ONLY of each month.   Please call 992-3408 for questions.
Do you have any wood chips available?
Wood chips can be picked up at no cost by Eden residents for non-commercial use only.  Please call for more information.
A street light is out. Who should I notify?
Please notify the supervisors office (we will need the address and pole #)