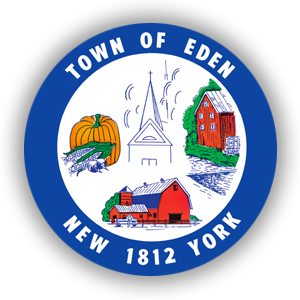 Contact Information:
Eden Town Hall
2795 East Church Street
Eden, New York 14057
(716) 992-3408
(716) 992-4131 (Fax)

Town Supervisor:
Melissa M. Hartman

Hours of Operation:
Mondays, Friday
8:00am - 4:00pm

Tuesdays, Thursdays
9:00am - 5:00pm
Wednesdays
8:00am - Noon
Town of Eden News & Announcements
The Erie County Dept. of Parks, Recreation and Forestry is looking for your input!  This is your chance to voice your opinion on the direction of the parks in Erie County.  Take the following 24-question survey online to provide important information on your usage and updates you would like to see in the future:
Eden began the New Year by joining the ranks of Erie County communities offering inexpensive, nutritious and balanced lunches for senior citizens. The program, called Stay Fit Dining, is offered through the Erie County Department of Senior Citizens and is at St. John's Community Church, East Church Street, a Stay Fit co-sponsor along with the Eden ACES senior citizen group.
"We finally made it," St. John's pastor Jim Reidling said of the many hours the church and members of Eden ACES  spent organizing the dining facilities and coordinating their efforts with the county Office of Senior Services. "I'm so proud that we were able to begin to reach out to seniors in the community."
The cost is a free-will offering, suggested at $3. But to take part, residents must reserve a space by Wednesday the week before the scheduled lunch if they want to attend. Eden will offer lunches at 12:30 p.m. Tuesdays and Thursdays for now, and diners are asked to arrive at the church by 12:15 p.m.
To reserve a lunch seat, residents are instructed to contact Barbara Caffery at 992-4896 or by email at edenstayfit@gmail.com. A sample past menu is sliced turkey breast with gravy and stuffing, chive mashed potatoes, carrot coins and molded cranberry salad. Future menus will appear in the Pennysaver.  

Eden has been listed as the New York State's 15th safest town.  This statistic places Eden as the safest town in Western New York according to Creditdonkey.com.  Our police department along with our police reserves should be credited with this distinction.  Every day they work hard to keep our community safe.  We are excited to be recognized as a safe and secure place to live!